Past event
PUBLIC NETWORKING EVENT: Launch of Code EFABAR 2023
30-30 May 2023
University Foundation, Brussels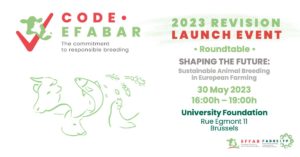 As Global Food Systems continue to face pressing challenges such as the climate crisis and biodiversity loss, food security has become increasingly important too. Furthermore, the EU Green Deal shapes the framework to develop more sustainable and resilient food systems in the EU, and animal-sourced food production faces additional challenges due to changing perceptions of animal farming.
EFFAB and FABRE TP are organizing an event to explore the role of animal breeders in developing new generations of farmed animals (poultry, ruminants, pigs, aquatics, and insects). We will discuss how breeding programs have integrated the concept of sustainable, balanced breeding and how it can continue to evolve to improve the resilience and sustainability of food systems.
During the event, we will launch the Code EFABAR 2023, the code of good practices for Responsible and Balanced Breeding.
Join us to be part of the conversation and contribute to shaping the future of animal breeding!
AGENDA
16.00h – 16:30h - Keynote speech: Sustainable food systems and animal farming by Badi Besbes, Senior Animal Production Officer, FAO - Animal Production and Health Division
16h30 – 17.30h - Round table: "Shaping the Future: Sustainable Animal Breeding in European Farming"
Alexander Doring, Secretary General of FEFAC

Frank O'Mara, Director of  TEAGASC and President of Animal Task Force

Inês Ajuda, Programme Leader for Farm Animal Welfare at Eurogroup for Animals  

David Bassett, Secretary General of EATiP

Craig Lewis, Chairman of EFFAB

Joanna Stawowy, Member of Cabinet of Commissioner for Agriculture Janusz Wojciechowski

Francisco Revriego Gordejo, Head of Unit for Animal Health, DG SANTE, European Commission
Moderated by Natasha Foote (Brussels – based Agriculture Journalist)
17.30h – 18.45h - Launch of Code EFABAR Revision 2023 and reception
In short :
Join us to discuss the future of sustainable animal breeding in European agriculture during the launch of the Code EFABAR revision on May 30th from 16h to 19h at the University Foundation, Brussels.