News, AI Vets
Save the date: AI VETS 2023 in The Netherlands
01 February 2023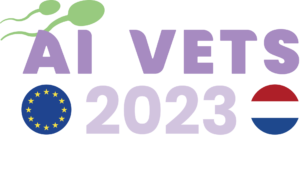 The local organizing committee is pleased to invite you to the 33rd European Congress of AI VETS in The Netherlands. The event will take place from 10 to 12 October 2023, at The Ruwenberg in Sint Michielsgestel.
The AI VETS is a conference gathering experts from animal insemination and reproduction in the porcine and bovine sectors. This annual conference is a place for meetings and exchanges for those involved in animal insemination and in the reproduction sector.
The program is still under construction, but will be roughly:
Tuesday October 10: 
RepVet meeting for delegates
Qualivets Bovine and Porcine
Lunch
Conference
Walking diner
Wednesday October 11
Thursday October 12
More information will follow! If you already have any questions, please contact us at aivets@effab.info.
We warmly welcome you as a speaker at our conference. If you are interested, please email aivets@effab.info and we will get back to you.
In short:
The AI VETS is a conference gathering experts and scientific and practical content around artificial insemination and reproduction for pigs and ruminants.